Podorlicko, the country at the foothills of the Orlické Hory (the Eagle Mountains), at the confluence of the Tichá Orlice and the Třebovka, is where the town of Ústí nad Orlicí is situated.

The country around abounds with natural beauty and historical landmarks. The town itself carries many traditions that helped form its face. Ústí´s historical centre was registered among national urban treasures in 1991.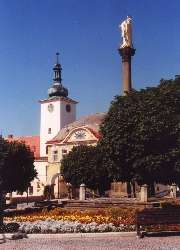 The town was born in the late 13 th century with first written documents dated 1285. Later it was owned by the Convent of Zbraslav, then the Kostkas of Postupice, by the Pernštejns since 1622. The centre of administration that had been the nearby Lanšperk castle at first, was moved to Lanškroun in the 16th century.

But the natives of Ústí enjoyed a better reputation at that time-one of skilled weavers and good musicians. An important impetus for local growth was the construction and commencement of the Olomouc-Prague railway in 1845. The textile industry flourished, which found a reflection in Ústí´s nickname "the Bohemian Manchester". Preset day followers of the old tradition are cotton companies Perla and Rieter Elitex and the Cotton Research Institute.

The musical tradition mirrors itself in the popular saying that everyone is a violin player in Ústí.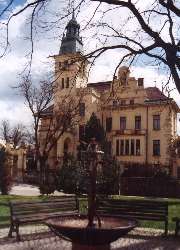 The tradition was formed by musical families and by celebrities like the violin genius Jaroslav Kocián, and has been cultivated down to our days. Highlights of contemporary cultural life include the Kocián Violin Competition and the international Heran Cello Competition, both enjoying high expert ratings. Best local musicians are members of the Brass Band of Ústí nad Orlicí of of the Jaroslav Kocián Chamber Orchestra. Performing since 1803, the Cecillian Musical Unity is Europe´s oldest singing ensemble. Its home and base is the decanal Virgin Mary Assumption Church, itself a dominating sight of the town with perfect acoustics and an excellent baroque organ which has been used for sacral music recordings and during the regular St. Cecily Sacral Music Festival each autumn.

The town of culture also cultivates a dramatic tradition that has been carried by the Vicena Theatre Ensemble for over a century. The ensemble inspired the remarkable 1936 functionalist theatre building designed by the prominent architect Kamil Roškot that has been enlisted among the town´s registered sights recently. The C-Dance ensemble of scenic dancing is one of Czechia´s best.

Another living tradition is the Christmas crib making-many homes have their own painted cribs made by local folk artists and more are displayed in the town museum. But culture and sights are not the only attractions of Ústí nad Orlicí.

The town is a good place for recreation. The country around is ideal for walks and biking trips. There is the very spectacular route along the Way of the Cross as far as lookout tower of Andrlův Chlum and farther along the ruins of the castles of Lanšperk, Žampach, Potštejn and Litice, etc. Abundant practical facilities can be encountered on the way offering drinks and meals. Sports enthusiasts can select from a number of facilities, the large sports area including a football stadium, tennis courts and playgrounds for volleyball and basketball, a sauna, outdoor and indoor swimming-pools, fitness centre, bowling, table tennis, boat rental, and an airport with parachuting courses and observation flights, plus many more options of having a good time.

Tel. IC: +420465 - 514111

E - mail: ic@muuo.cz